Boards
---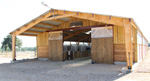 Montjovent stables propose on NM ARABIANS site, a 35 ha estate of grassland by an authentic Bresse farm, pasture and box boards throughout the year :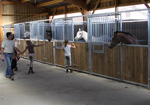 Box board :

330 € / month including VAT
Box + daily turnout board:
A 3m x 4m box with hay and feed: 300 € / month including VAT
Including daily turnout.
Pasture board :

Hay supply and daily supervision provided.
Shelters are available
170 € /month including VAT
Available infrastructures:

Individual paddocks
Shower
Sand round pen
40m x 35m sand arena
Barn of 15 boxes

There are many trails in the surroundings!
Access :

On the motorway A40 exit No. 4 (Pont de Vaux) coming from Bourg Genève or exit No. 3 (Bagé) coming from Macon.
The stables are 15 minutes from the motorway exit.
Genève: 1h30
Lyon: 1h00
Macon: 20 minutes
Bourg: 30 minutes
Contact and information :

Nicolas MEYER
Montjovent
01190 ST ETIENNE SUR REYSSOUZE
06 12 44 29 38
nmeyer@ets-bernard.com